I've had some corduroy in my stash for almost a year. It was on the special table at Spotlight and cost just $10 for 2 metres, though it was just 112cm wide.
The pattern I had in mind was this from the 2/2015 issue of BurdaStyle magazine
I patiently traced out all of the pattern, laid the pattern out on the fabric - and I was about 20cm short on fabric. So back to the magazines. This time I found #107 in the 10/2015 issue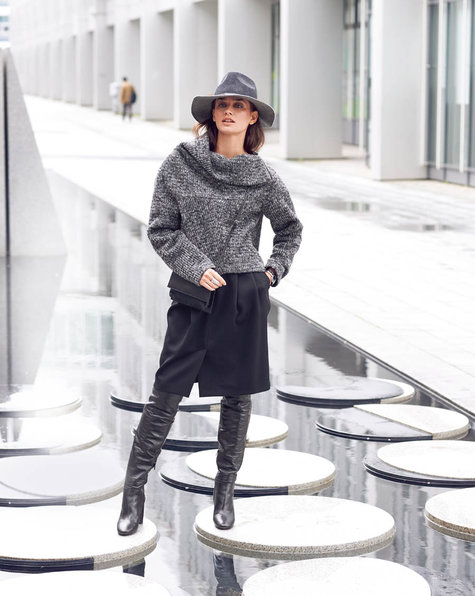 It is described as :
This skirt pattern is a nice piece to be made with a wool material for colder weather. It has narrows pleats, a front zipper and small slit.
Not included in the description are side pockets and a faux flap pocket on the back.
This skirt had a lot of challenges for me. My first skirt vent, my first fly zipper. The back has a faux flap pocket, again a first for me. BurdaStyle instructions assume you know how to do things, so I spent a lot of time looking at various YouTube videos on how to do skirt vents and fly zippers. Once I understood them, the BurdaStyle instructions made sense. However the faux flap pocket had me stumped. I couldn't find any tutorials to help, so ended up doing it my own way. The skirt pockets and inside the flap are lined. I used some remanant lining I had left over after lining my linen jacket.. It is a lavender colour so goes nicely with the grey corduroy.
Here is my finished skirt.
I had cut the waistband about 1inch longer than the pattern called for thinking I could trim it if it was too long. If anything it was a touch too short. Next time I'll add about 3 inches to it. I blind stitched the hem for a smooth finish. I like the waistband, it is cut quite broad and doubled over, so with the interfacing it is very firm.
I am really happy with this. It is a lovely casual skirt. I met a friend for lunch yesterday and wore this. I'd like to make a one in denim and another in a heavy cotton.