I have made this shift dress from BurdaStyle.
The original pattern was to be made in a wool fabric but I wanted to make it as a shift dress for summer.
BurdaStyle describe it as: " This classic shift dress features hidden pockets, which will come in handy more than you will ever think. There are no sleeves and a slight boatneck." It has an invisible zip in the back and their version is lined.
Their photo: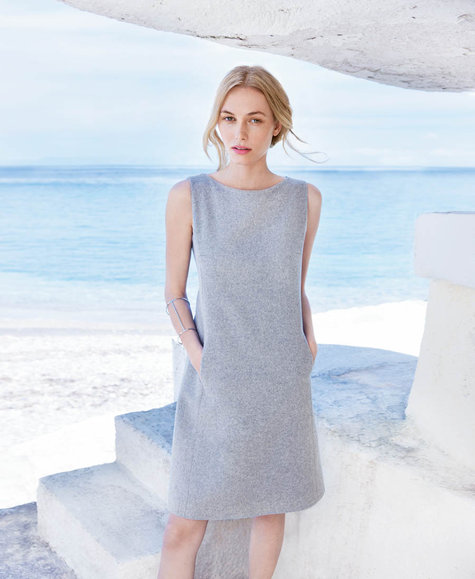 My version was made from cotton sateen for the front and back and crepe for the side panels. I am worried about the crepe has it has more stretch than I had realised and it may not wear very well as the centre panels may stretch out of shape. As I was making this for summer, I wanted it light weight so did not want it lined. This meant I needed to make a neck facing and used bias binding on the armholes. I also needed to change the construction from the order given to take these into account. In the pattern, one pocket piece is attached to the lining, so I needed to cut 2 extra pocket pieces to make a pocket 'bag' to put in the seam.
After seeing scalloped hems on dresses in shops I decided I wanted a scalloped hem. I searched the internet for tutorials and found this great one on
Colette
.
I practiced first to get the size of the scallops right. The first step is making a template for the scallops. The first one I made was too small at 1 1/2 inches wide. When I tried it on my first test fabric, it just looked like a hem gone wrong. I increased the size so they were 4 inches wide and that seemed to work just fine. I think if I do another scalloped hem I may make them a bit deeper/ higher, but overall I'm satisfied with how they turned out. I finished the hem by handstitching as recommended on the Colette site.
The photo shows the 2 templates. The top one was too small, the second almost right.
give it a go. It is easier than it looks.
More photos:
This will be a comfortable loose fitting cool dress for summer. It is quite possible I'll make another of these.
I have enough fabric left over to make a jacket, using the cotton sateen for the front and back and the crepe for the sleeves. I don't have enough cotton to do the sleeves as well. Given the stretch that the crepe has, I will make it in short sleeves, so my elbows don't wear bulges in the crepe.
The cotton sateen was from Centrepoint, 1.5m for $29.90 and the crepe from SmartDress fabrics for $10 for 1 metre.